Sanya Pervez Hussain, Brand and Marketing Director of Afghan Carpet sits down with Alyzeh Rahim, owner of The Exhibit, Magicosmetix and Apex Solutions, to talk about Mother's Day: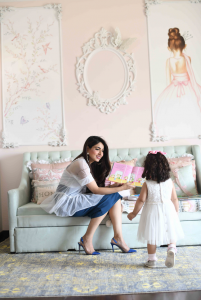 What is the best advise you can give to new young working moms?
The most challenging time is after you give birth because naturally it's such a new experience and your life has changed more than you could have anticipated and you're totally accountable for a new life, so for me work was like a pillar that kept me organised and made me feel most like myself. I occupied myself with work immediately after my daughter was born but luckily a lot of what I do is can be done from home. I think it really depends from mom to mom, and on your mommy hormones but I would say if you feel disconnected with yourself, work, even part time is a great way to achieve a sense of yourself. As women, we can be so harsh with ourselves, we need to appreciate that no way is the right way and we can do our best only to find a new sense of ourselves and it's a beautiful journey from here on and it only gets easier.
What is your favourite carpet piece out of these and why?
Afghan Carpet's is known for its beautiful range of traditional and hand-knotted pieces, it has been the go-to carpet design house since I remember, and no one can beat the quality or customer service, so you always feel most comfortable making your purchases from there. As of recent, carpet trends have become a little more contemporary using modern styles and weaving techniques, and so, I was so excited for this shoot. My most favourite one was the blue Afghani modern Chobi carpet (pictured below) in the shot of Inara (my daughter) and I colouring on the table by Address Home, because it has a sense of traditional design yet it's modern – kind of representing me and my aesthetic most! Afghan Carpet will be having their annual Ramadan sale this Ramadan and I can't wait to get my hands on these beautiful pieces, right in time for Eid!
What are your favorite carpet trends for this summer?
I have to admit I like a sense of traditional with more modern furniture pieces, I like the collaboration of the two but a lot of couples and families are obsessed with a very modern aesthetic and style, you can find whatever your look is at Afghan Carpet, the variety is vast, whether it's traditional Iranian Tabrez, Nahin, Qum, Afghan Chobis rugs, Central Asian and Pakistani rug collection. I am also a big fan of their new collection of modern designs that set a balance between contemporary and traditional looks. For this summer, I would opt for their over-dyed and Afghan Suzanis collection that comes in bright radiant colours and distinct designs; perfect to revamp a living space this summer.
How do you juggle time between work and motherhood?
I think it's only a challenge for the first four months, then everything falls into place, it's about time management and organisation basically! And sleep training them by 3 and a half months because if you have a good night's sleep you can concur the world
How will you celebrate Mother's Day with Inara?
Just as we do every day, spend quality time together, eat our meals together – maybe go out for a meal! Motherhood is so satisfying and sweet, my only wish would be to spend it with my mom, my grandma, my mum in law, my daughter and my aunts – that's my ideal Mother's Day.
All interior Furniture and styles are done by Address Home, Afghan Carpets sister company.